Sunflower Seed
The sunflower seed is the seed of the sunflower (Helianthus annuus). There are three types of commonly used sunflower seeds: linoleic (most common), high oleic, and sunflower oil seeds.
History
Sunflower was a common crop among American Indian tribes throughout North America. Evidence suggests that the plant was cultivated by American Indians in present-day Arizona and New Mexico about 3000 BC. Some archaeologists suggest that sunflower may have been domesticated before corn.
Description
The attractive heads of flowers are 7.5–15 cm wide in wild specimens and often 30 cm or more in cultivated types. The disk flowers are brown, yellow, or purple, while the petallike ray flowers are yellow. The fruit is a single-seeded achene. Oilseed varieties typically have small black achenes, while those grown for direct seed consumption, known as confection varieties, have larger black-and-white achenes that readily separate from the seed within.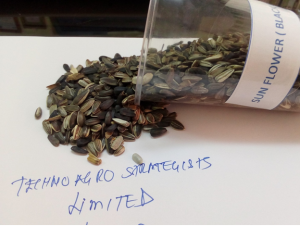 | | |
| --- | --- |
| Type | Sunflower |
| Cultivation Type | Common |
| Processing Type | Raw |
| Style | Dried |
| Packaging | Plastic Bags ( 25 pp bag) |
| Grade | AA |
| Use | For human consumption |
| Shelf life | 24 months |
| Colour | Natural Colour |
| Moisture | 10% Maximum |
| Purity | 99% |
| Supply ability | 20 tonnes monthly ( during harvest cycle ) |
| Origin | Tanzania |