The Chilli pepper (also Chile pepper, chili pepper, or simply chili from Nahuatlchlli. Nahuatl pronunciation is the fruit of plants from the genus Capsicum, members of the nightshade family, Solanaceae.
HISTORY
Chilli peppers originated in Mexico.After the Columbian Exchange,many cultivars of chilli peppers spread across the world, used for both food and traditional medicine.
The five domesticated species of Chilli peppers are as follows;
1. ) Capsicum annum,which includes many common varieties such as bell peppers, wax, cayenned ,jelapenos,chiltenpin,and all forms of New Mexico Chille.
2.) Capsicum frutescens, which includes malagueta, tabasco and Thai peppers,piripiri, and Arican..
3.) Chinese Capscicum Chinense, which includes the hottest peppers such as the Naga, habanero, Datiland Scotch bonnet.
4.) Capsicum pubescens, which includes the South American rocoto peppers.
5.) Capsicum baccatum,which includes the South American aji peppers.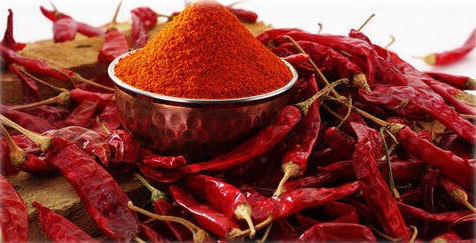 Chilli Pepper Stock Information
Details
| | |
| --- | --- |
| Product Type | Single Herbs & Spices |
| Color | Red |
| Moisture | 11% Max |
| Taste | Spicy |
| Place of Origin | Africa |
| Shelf Life | 2 Years |
| Flavor | Spicy Taste |
| Drying Process | AD |
| Product Name | Red Chili Powder |
| Colour | Red |
| Processing Type | Raw |
| Shape | Powder |
| Name | Chili Powder Brands |
| Part | Fruit |
| Form | Ground Powder |
Packaging & Delivery
| | |
| --- | --- |
| Packaging Details | 25kg, 50kg Polythene bags |
| Delivery Time | 15-30 days |