The Almond is a species of tree native to the Middle East, the Indian Subcontinent and North Africa.
Description
Almond is also the name of the edible and widely cultivated Seed of this tree. Within the genus Prunus , it is classified with the peach in the subgenus Amygdalus, distinguished from the other subgenera by corrugations on the shell (endocarp) surrounding the seed.
Sweet and Bitter Almonds
The bitter almond is slightly broader and shorter than the sweet almond and contains about 50% of the fixed oil that occurs in sweet almonds. It also contains the enzyme emulsin which, in the presence of water, acts on suluble glucosides, amygdalin, and prunasin, yielding glucose, cyanide and the essential oil of bitter almonds, which is nearly pure benzaldehyde, the chemical causing the bitter flavor.
Almond Milk
Almonds can be processed into a milk substitute called almond milk; the nut's soft texture, mild flavour, and light coloring (when skinned) make for an efficient analog dairy, and a soya free choice for lactose intolerant people and vegans.
Oils
Almonds are a rich source of oil, with 50% of kernel dry mass as fat (table). Almond oil contains 32% monounsaturated oleic acid (an omega – fatty acid), 13% linoleic acid (a polyunsaturated omega – 6 essential fatty acid), and 5% saturated fatty acid.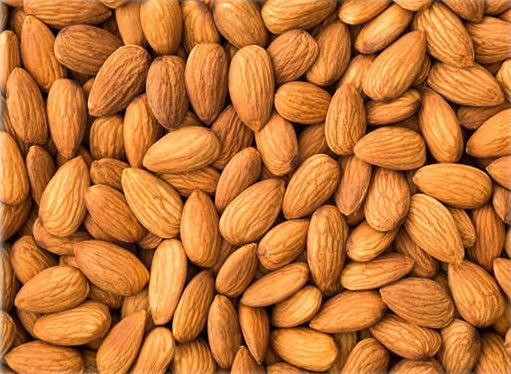 Almonds Stock Information
Details
| | |
| --- | --- |
| Type | Almond |
| Use | Snack |
| Place of Origin | Africa |
| Cultivation Type | Common |
| Packaging | 10kg/Bag/Carton |
| Brand Name | Grade AA Almond Nuts |
| Processing Type | Raw |
| Certification | SGS |
| Style | Dried |
| Grade | Grade AA |
| Product | Raw Almond Nuts |
| Flavor |  Typical pleasant almond flavor, Mildly astringent |
| Color | Medium tan/brown |
| Sizes Available | 18-20, 20-22. 22-24. 23-25. 25-27, 27-30, 30-32, 32-34 |
| Moisture | Max 6 % |
| Purity | 99% Min |
| Bad almond of obscure | 5% |
| Aflatoxins | Max 5PPB |
| E. col | < 3/g |
| Salmonella | Negative/375g |
| Calories | 645 kcal |
| Calories from Fat | 485 kcal |
| Total Fat | 53.9g |
| Saturated Fat | 4.0g |
| Total Carbohydrates | 17.8g |
| Sugar | 4.5g |
| Dietary Fiber | 10.5g |
| Protein | 22.5g |
Packaging & Delivery
| | |
| --- | --- |
| Packaging Details |  25lbs or 50lbs Plastic-lined cardboard cartons |
| Delivery Time | 15-30 days |